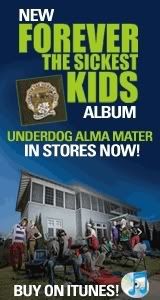 Who knew that a tiny Baptist college in the hills of extreme southwest Dallas was such a hotbed of good music?  I certainly didn't when I started at DBU, but I do now.  I'm proud to see a few of my former classmates doing well.
Forever The Sickest Kids are about to release their release their first album on Universal, titled Underdog Alma Mater.  With a powerpop sound that is perfect for those west coast soap operas... wait... FTSK was just featured on The Hills.  I rest my case.  It's these kinds of things that make me really happy for people I know.  I'm proud of these guys.  I can still remember the days of The Flipside, and that now seems like ages ago.  I really recommend that you go check these guys out.  It's good music, and they put on a great show.
FTSK will be playing at House of Blues here in Dallas for their cd release party on May 24th.  However, their cd comes out April 29th.  That's in 5 days folks.  You can pre-order from fine retailers such as Best Buy or iTunes.